Dec. 28, 2022
0 comments.
Oyez oyez, hear hear, dear Go-Players, Baduk-Lovers and Weiqi-Ladies : We got some news from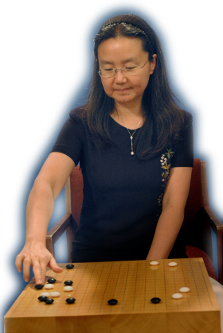 Guo Juan 5P!! In an email she wrote: "I found it very interesting doing the game reviews for Open Study Room, I guess it's because the games are played seriously."
Now that is some serious kudos (*praise) for the OSR players!!! Keep dem games coming!!!
Further Guo Juan wrote that
she will continue to do a monthly review for the OSR players,
regardless of their geographical origin or AGA membership,
only that the games should be played at a different rank each time!
The last game drawn for the review was played between SlowThought and Cron, both DDKs , so this time it is up for the SDKs and DANs to get lucky!
You can check out Guo Juan 5P's Internet Go School here: Internet Go School
Besides doing these monthly reviews Guo Juan 5P also supports the OSR via voucher prizes for that very same school - she is a longtime support and friend of the OSR.
Kudos and :3:3:3 to her, Darrell from the IGS and the whole IGS team, and a very Happy New Year 2023!!