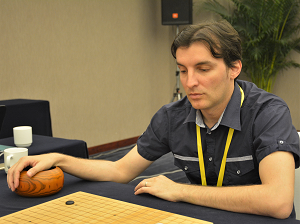 My name is Gheorghe Cornel Burzo and I was born may 3rd 1980 in Bistrita, a small town located in the north of Romania.
I came across the game of Go for the first time at age of 10 when my grandfather bought a Go game set for me and my two brothers as a Christmas gift but we couldn't really understand the rules from the flyer inside the box so I found the game boring and quit after trying a few 9x9 games..
Few years later I moved with my family in a bigger city Baia Mare also in the north of Romania and in 1994 I joined a local Go club which was ran by a 2kyu physics teacher Florin Berciu and once I learnt the rules properly I found the game fascinating and addictive and since then I took part in 275 go tournaments worldwide .
You can check my player stats here.

Among the numerous tourneys played in Europe, USA and Asia I can mention a few notable results such as winning the National Championship in Romania 5 times, finished 3rd and 4th in the European Go Championship in 2003, 2010 respectively and placed 5th and 6th in the World Amateur Go Championships in 2008, Japan and 2015,Thailand.


I got promoted to 6dan player egf in 2003 (recently 7d egf) and besides playing many tournaments live I've been very active as an online player and teacher on servers like IGS-Pandanet, KGS,Tygembaduk, Wbaduk and Fox where I use Cornel , cornel11 usernames for teaching and igoski account for playing rated games.
I teach online since 2000 and you can check my go lessons prices on Cornel info on KGS or email me at cornelburzo@yahoo.com for further details.