Hello community!
We, the whole OSR team, wish everyone a happy and successful 2019! We hope your plans for the new year will also include some Go - whether it be playing games, reviewing, learning or just chatting with your fellow players on Discord!
We would like to thank you all for being active members of our community, and our teachers and partners who allow us to offer lectures and award teaching games and reviews as prizes for our students. We hope that you enjoy the Open Study Room as much as we do.
Starting a new year is also the time where people look back at the previous one - so we decided to do a quick review of Open Study Room activities in 2018.
2018 has been a busy year.
We ran three monthly leagues throughout the year as well as our Meijin league as a quarterly league, and tournaments like the recent 9x9 tournament and the Creators Invitational Tournament that ran for several weeks.
We also organized a number of events (teaching games with Alexandre Dinerchtein 3p and Yoonyoung Kim 4p), lectures (with Jeff on reading, timing and inducing moves and with Cornel on sabaki). We hope you enjoyed those and learned something new.
On the development side, the website got a brand-new look and we introduced our Discord bot that interacts with the OSR website and the KGS go server.
Community development
Let's take a look at the overall development of our community: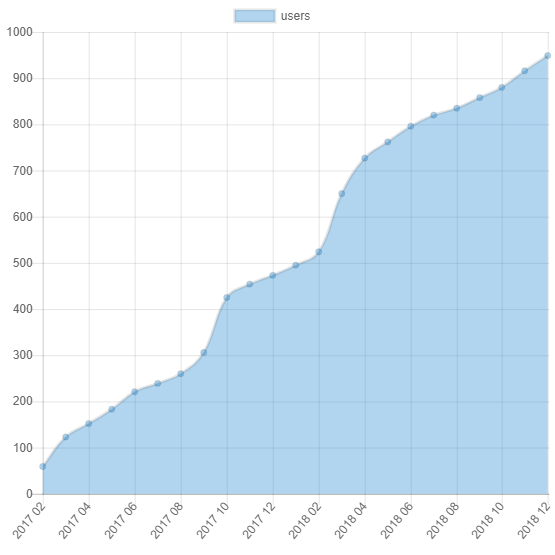 The number of users has almost doubled in 2018 and we are now very close to 1000 registered users, which is truly amazing!
League activity
Let's also have a look at our league activities, as these are an important part of OSR and we know that many of you enjoy the competition: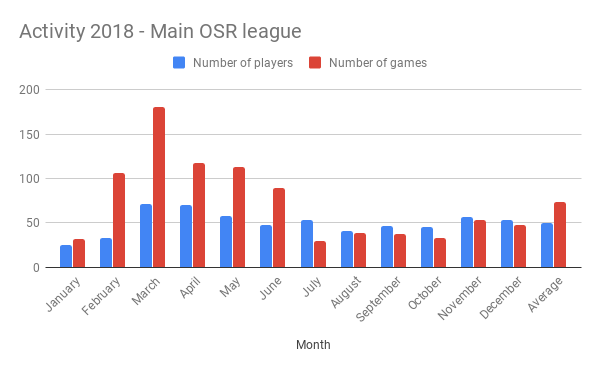 The main OSR league was our most active league as it unites most of the OSR community. With an average of around 50 players and about 70 games per month the league is still going strong. We can see that the amount of players was fairly steady throughout the year and that there were peaks in activity in the first half of the year. After that the number of games decreased while the number of registered players stayed fairly constant.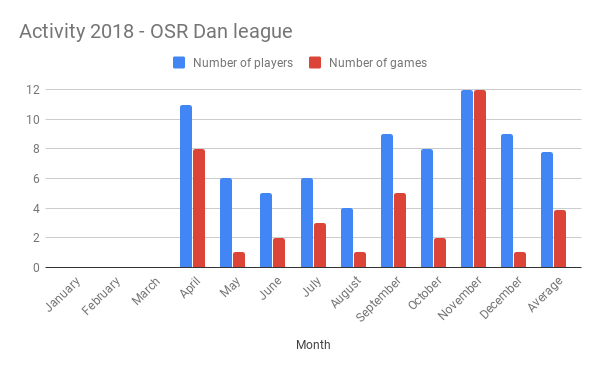 The Dan league has only been running since April, and with an average of only 4 games per month it has not really taken off like we hoped it would. If you are a Dan player we would love to hear your feedback on the league and whether there is anything that could be done to make it more appealing to you and your fellow Dan-level players. Of course we know and appreciate that many of you play in the main league versus weaker players, and we can't thank you enough for that!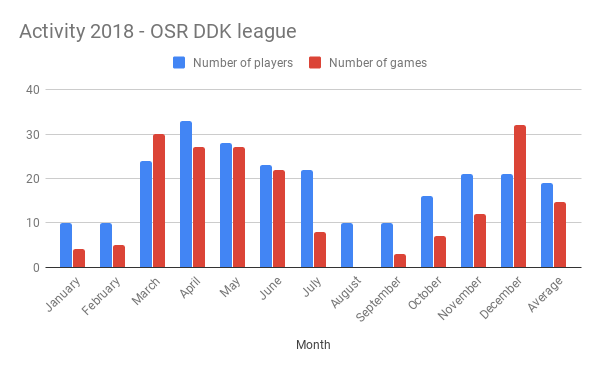 The DDK league has seen some ups and downs in activity, and has become quite active again since we recently had an influx of new and eager players who not only play amongst each other but also in the main league against stronger players. The league averaged at around 20 players and 15 games per month.
Finances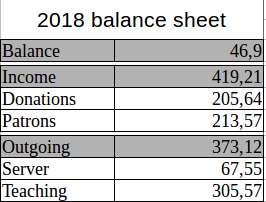 The numbers you can see are the OSR finances for the year 2018 in Euros (€). We had a positive year with a positive balance of almost €47. That's a great improvement over last year which closed in the red with a €-120 balance.
We would like to thank all our donors and Patreons for helping us to offer Go teaching to the world and for allowing OSR to exist!
You are the best!
Thank you all very very much and let us continue working and playing well together in 2019!