This month's OSR update brings you a new monthly problem, an answer to last month's problem, and finally all the details of the July leagues and the 9th OSR Meijin league.
July Problem
This month's problem was offered by GoDave89 and comes from a recent match with Brisbaner. Black to play: do you need to respond to the last move to live? (and if not, where to play?).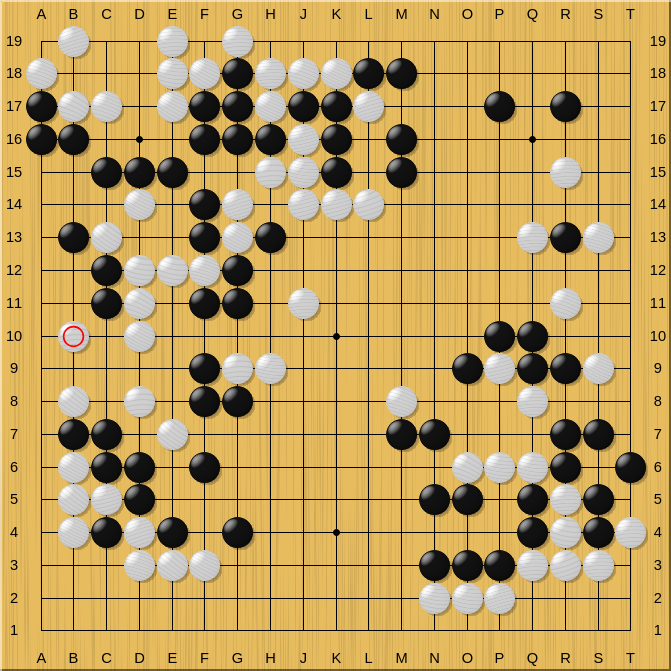 Feel free to join us on discord and post your thoughts in the #tsumego_hints channel! The best answer will be posted in #tsumego_solutions. If you are wondering how we find these problems, they are sent to us by our members. So if you encounter an interesting problem in one of your league games, feel free to share it with us, either via a forum post on openstudyroom.org or in the #admin-request channel on discord.
Answer to June Problem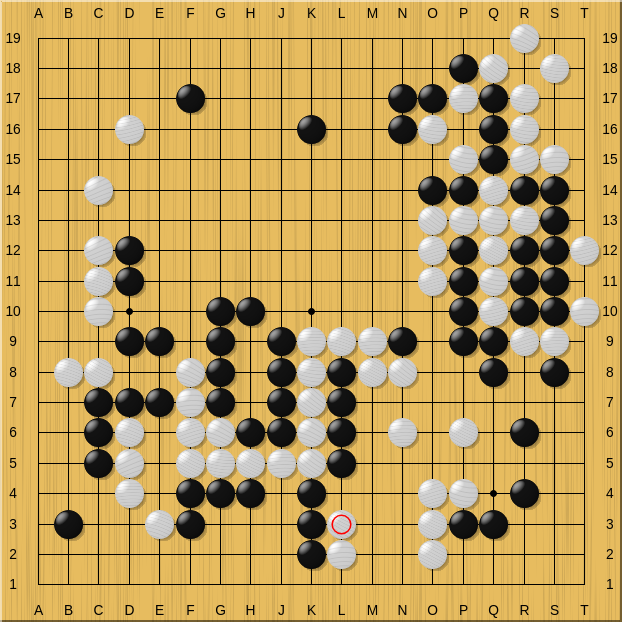 This problem was black to play and they had a predicament: to connect or not to connect? The obvious move would be to connect at L4 and this was the move that was played in the game. However, the problem with connecting is that the resulting shape might not live. After some analysis we reached the conclusion that if black connects at L4 white can kill the whole group, therefore black should either try to save the larger part of the group, allowing the cut, or should tenuki as part of a larger scale strategy.
League Results
Without further ado, here is a summary of all the latest league results:
| League | Players | Games | 1st | 2nd | 3rd |
| --- | --- | --- | --- | --- | --- |
| Meijin league | 45 | 118 | GoDave89 (24/27) | Newbator (18/25) | BoneSaw (15/19) |
| Monthly league | 22 | 26 | Newbator (5/6) | flapse10 (4/7) | Capitaine_Crochet (4/7) |
| DDK league | 2 | 2 | noke4duke (1/2) | opuss (1/2) | - |
| Dan league | 4 | 3 | GoDave89 (2/3) | Brisbaner (1/1) | BoneSaw (0/1) |
The July leagues seemed to suffer from the summer heat in the northern hemisphere, with the main monthly league progressing at a leisurely pace of slightly less than one game a day on average. And so it was that Newbator finally won the monthly league, with 6 games and 5 wins, after having been pipped at the post in the May OSR league by BoneSaw. Well played! As well as playing in the monthly leagues Newbator has been delivering some truly epic game commentaries on gokibitz.com together with bugcat who recently hit no less than 2000 gokibitz stars.
The Dan league saw a flurry of activity in July with 3 matches from 4 participants, however what it might lack in quantity it makes up in quality - these games are worth having a look at.
The 9th OSR Meijin concluded at the end of July and (trumpet noise) GoDave89 once again defended his title as OSR Meijin, with 27 games and 24 wins. That said, Newbator who came second promises to be one to watch in future, having played 25 games and notched up 18 wins.
Prizes
These are the prizes for the July leagues. Note that not all winners and runners up get prizes and a player needs a minimum of 3 league points to be eligible for any prize.
| Place | Player | Prize |
| --- | --- | --- |
| Meijin league 1st place | GoDave89 | Teaching game with Alexandre Dinerchtein (3p) |
| Meijin league 2nd place | Newbator | €10 at Guo Juan's Internet Go School |
| Monthly league 1st place | Newbator | Game review with Justin Teng (AGA 6d) |
| Monthly league 2nd place | flapse10 | €10 at Guo Juan's Internet Go School |
| Dan league 1st place | GoDave89 | Teaching game with Norman Tsai (AGA 6d) |
Congratulations to the winners, thanks to everyone for participating and also to our teachers and sponsors! See you all next month!